Just over a year ago, I sat at our prevention conference, mouth agape at the sheer ambition of the 988 plan. The federal government, in partnership with the states, was planning to launch a nationwide system of crisis intervention for mental health, suicide, and substance use in the summer of 2022. The goals were strategic, smart, and almost unfathomable given how the system of crisis mental health care had previously operated. (Preview below or link to full article here.)
These were just a few highlights:
Change the previous ten-digit suicide lifeline number and make it easier to remember. Just as 911 is associated with emergencies for fire, medical, crimes, etc., the number for mental health crises would become 988.

Create a "no wrong door" integrated crisis system focused on meeting mental health crisis needs at the lowest effective level. This included confidential call, text, and chat hotline options, mobile crisis response teams, and behavioral health crisis centers, with final stops at the hospital only as needed.

The availability of help from these additional points of entry would not only reduce healthcare spending but also help keep our law enforcement officers where they are needed instead of implementing jail time or spending long hours in hospitals waiting on evaluations.
In Missouri, I remember hearing we were one of the few states who had prepared and were ready for the "soft launch" on July 16, 2022. I also remember seeing these charts that helped explain how this was designed to work in our state and local areas.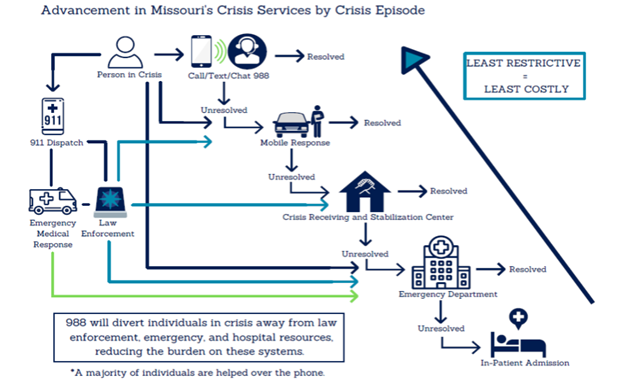 988 One Year Later: How's it Going?
Back at this same conference, one year later, I was very interested to hear how this ambitious goal had been operating in real-time since the launch the summer before. Here are some of the highlights:
In just the first month of implementation, calls increased by 30%. It has continued to increase since that time but, the number of hospitalizations has not significantly increased. This is a nod to the effectiveness of lower-intensity interventions when someone is in crisis.
Trained specialists are available 24/7/365 and calls are answered in less than 30 seconds. There are options for different languages and special populations such as veterans and the deaf community. On the very rare occasion that lines are full, there is a nationwide backup center to answer all overflow calls.
For the full list of updated highlights click here for the full article at Partners in Prevention! Thanks to Missouri PIP for the privilege to publish with you!